Ever hang out with an Angel? Felt the presence – or dreamed – of a mystical Being so powerful that your slumbering soul jolted upright? Have you craved such an experience? Or do you wonder if these Beings even exist? Join Amy Renee, Andrea and Katy as we explore the angelic realm, ascended masters, and a variety of saintly icons, while sharing our own doubts and learning curves along the way. Each episode features a Being as the Special Guest, to whom you may – or may not – feel drawn. We discuss relevant scholarly text, address the aspects of our Guest that may be off-putting, offer channeled messages of guidance and conclude with a meditation Amy Renee is a shamanic practitioner; Andrea is an evidential psychic medium; Katy is a Christian minister and metaphysical intuitive. The beautiful universe brought us together to offer YOU these incredible journeys. Buckle up and come along for this ride magical ride with us!
Episodes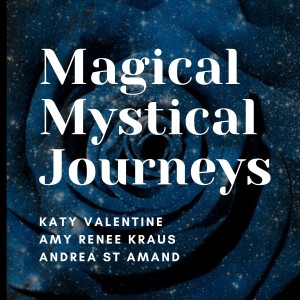 Friday Feb 17, 2023
Friday Feb 17, 2023
Because the three of us know just enough about this topic to be dangerous, we bring in THE expert on the folklore of the Fairy Realm - special guest Morgan Daimler!
The folklore of the fairy realm goes back 2,000 years, so forget everything you think you know about Tinkerbell. 
Morgan guides us through fascinating questions and ideas, such as:
  What is the world of fairy?

 

Where is it located?

  Who lives there?

 

Can animals be fairies?

  What are some common misconceptions about this other realm?
You'll also discover:
The difference between human spirits and a fairy sighting

Other names for the Fairy Realm;

Whether you, personally, should work with this realm

A

bout the historic resources underlying this episode.
As always, hear our personal stories! And please share yours.
Find Morgan Daimler:
And, of course, grab some sweet copies of Morgan's books at https://www.amazon.com/Morgan-Daimler/ 


_______________________________________________________Love the music of the podcast? Check out awesome James C. Rider II of both Emperor and the Sea and Handpan music. Give him some love and check out his work right here. 
_______________________________________________________
Please share any of your Magical Mystical Big Land experiences with us! You can find us at: