Ever hang out with an Angel? Felt the presence – or dreamed – of a mystical Being so powerful that your slumbering soul jolted upright? Have you craved such an experience? Or do you wonder if these Beings even exist? Join Amy Renee, Andrea and Katy as we explore the angelic realm, ascended masters, and a variety of saintly icons, while sharing our own doubts and learning curves along the way. Each episode features a Being as the Special Guest, to whom you may – or may not – feel drawn. We discuss relevant scholarly text, address the aspects of our Guest that may be off-putting, offer channeled messages of guidance and conclude with a meditation Amy Renee is a shamanic practitioner; Andrea is an evidential psychic medium; Katy is a Christian minister and metaphysical intuitive. The beautiful universe brought us together to offer YOU these incredible journeys. Buckle up and come along for this ride magical ride with us!
Episodes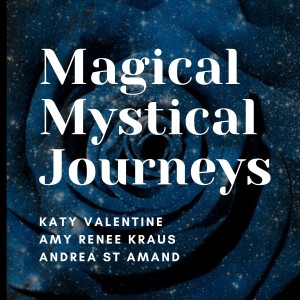 Monday Mar 06, 2023
Monday Mar 06, 2023
We're not wasting times with this powerhouse Being -- it's all about Mother Mary! This Being is for EVERYONE, regardless of your background (in other words, she's not *only* for Catholics). 

This is her DIVINE message to you: "All of you is sacred."
Each part of us is sacred. Mother Mary offers us radical acceptance and healing, and her warm embrace will surround you in comfort.
Amy, Andrea, and Katy take you to places of deep insights about the Divine Feminine and especially about our own sacredness in this magical, mystical podcast.
Find out all about Mother Mary's life on earth and in and how she continues to inspire, comfort, and reveal in through her presence today.
You can subscribe to the entire podcast so that you don't miss anything on this episode of Magical Mystical Journeys (available wherever you listen to podcasts). 


_______________________________________________________Love the music of the podcast? Check out awesome James C. Rider II of both Emperor and the Sea and Handpan music. Give him some love and check out his work right here. 
_______________________________________________________
Please share any of your Magical Mystical Big Land experiences with us! You can find us at: