Ever hang out with an Angel? Felt the presence – or dreamed – of a mystical Being so powerful that your slumbering soul jolted upright? Have you craved such an experience? Or do you wonder if these Beings even exist? Join Amy Renee, Andrea and Katy as we explore the angelic realm, ascended masters, and a variety of saintly icons, while sharing our own doubts and learning curves along the way. Each episode features a Being as the Special Guest, to whom you may – or may not – feel drawn. We discuss relevant scholarly text, address the aspects of our Guest that may be off-putting, offer channeled messages of guidance and conclude with a meditation Amy Renee is a shamanic practitioner; Andrea is an evidential psychic medium; Katy is a Christian minister and metaphysical intuitive. The beautiful universe brought us together to offer YOU these incredible journeys. Buckle up and come along for this ride magical ride with us!
Episodes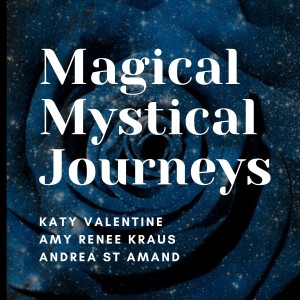 Friday May 05, 2023
Friday May 05, 2023
The very idea of the Inner Child can be a valuable but also potentially triggering energy to work with. That energy might show up as curious and playful.  Or bratty, angry and even deeply wounded.
 In this episode, we cover:
Resistance to delving into any past versions of ourselves, child, teen, adult
Pop culture notions regarding "inner child" work and what's helpful versus what can seem shallow or dismissive of the nitty gritty
Anxious children, and anxious adults with frozen parts of ourselves
While this work can be daunting, it doesn't take long!  We offer tools and imaginative techniques to help integrate parts of ourselves.  (Sometimes, that only takes awareness.)  
Pro Tip:  while using your imagination to work with different parts of yourself . . . you can break ALL the rules! 
Other tools include:
Questions to help you determine what ages of yourself might be arrested or needing attention
What parts of your body the inner child inhabits
Benefits of this work
Tips to invite in disparate aspects of yourself
And, of course, a meditation and our personal stories.
Resources:
Your own therapist or counselor specializing in this work

Integrated family therapy (IFT)

The movie The World According to Sesame Street! (which teaches children & adults to play -- and we got the name slightly wrong in the episode)
The movie Inside Out
Sacred Contracts by Carolyn Myss (This highly complex book works with archetypes, but does look into different parts of ourselves)

Our expert in the next episode!
Love the music of the podcast? Check out awesome James C. Rider II of both Emperor and the Sea and Handpan music. Give him some love and check out his work right here.